Abrasive Cone Shine Master VMT0165X
The Abrasive Cone Shine Master VMT0165X is uniquely designed for uniform polishing with less broken rice grains and highly efficient for polishing raw rice, parboiled rice, boiled rice and steamed rice.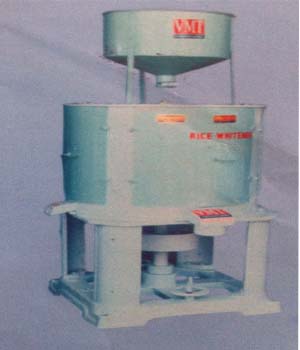 FEATURES
Abrasive cone is made from Silicon Carbide mixture under High Pressure Preparation.
Specially formed hardened and sharp abrasive cone gives a long operational life.
Adjustable abrasive cone gives a variable milling chamber which suits for any grain shape and maintain the certain chamber clearance even the cone wearing out.
Rubber breaks surround the abrasive cone can be adjusted while the machine is in operation.
Rice output is found to be cool and clean.
Low maintenance and easy operation.
May run on Counter Shaft or on Individual Motor Two variants are avaailable.
Compact and attractive design.
Longer life of stones.
Model
Size
01651
18"
01652
30"
01653
36"
01654
40"