PNEUMATIC PADDY DE-HUSKER VMT0134X
The VMT Pneumatic Paddy De-Husker is uniquely designed to be efficient in de-husking of raw paddy, parboiled paddy, steamed paddy or boiled paddy / i.e., Basmati, big or small type of grain.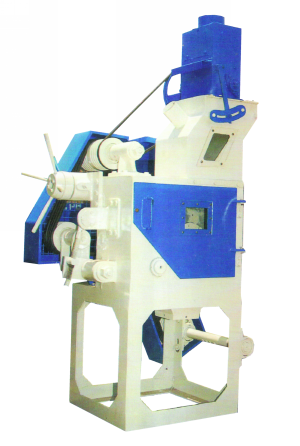 FEATURES
It has a high technology electronic de-husking system that automatically controls the force between rubber rolls.
The sensor system automatically disengages the
rubber rolls at the time when the paddy feeder ceases to flowpneumaticall
The efficient feed spreader ensures an even grain flow over the full surface of the Rubber Rolls.
The V-Belt drive system makes it easy to operate.
User friendly dust-tight closed circuit keeps it self clean in the harsh operatuing environment,
Husk and dust aspiration system minimizes air loss and driving power.
The compact design requires a small area for installation.
All these features contribute to give you minimum broken rice and gives high quality output.
Like all other VMT machines VMT Pneumatic Paddy De-Husker is highly efficient, strongly built and requires minimum of maintenance services.
Model
Capacity
Power
0134X
2-3MT
10HP